Full, Defined Brows are Possible with Semi Permanent Eyebrow Tattoo Services at Ayna Beauty Studio in Vancouver, Washington
If you're unhappy with your eyebrow shape or fullness, our permanent makeup clinic has incredible solutions. A semi-permanent eyebrow tattoo helps you achieve the look you want without the hassle of using an eyebrow pencil every day.
Few of us were born with perfect eyebrows, but with microblading, we can make it look that way! Ayna Beauty Studio's semi-permanent makeup blends seamlessly with your best features while naturally disguising thin areas.
How Do Cosmetic Eyebrow Tattoos Work?
Microblading is the more technical term for a cosmetic eyebrow tattoo. This procedure relies on special pigments deposited along the brow line to create the appearance of tiny hair strands.
The microblading process is very precise and causes minimal to no discomfort.
Are eyebrow tattoo artists professionally licensed?
Not just anyone can pick up a tattoo pen and create beautiful eyebrows! Cosmetic tattoo artists learn their craft through a rigorous certification program where they build on their existing cosmetology education.
Ayna's artists have obtained their permanent cosmetics license through the state of Washington and renew it yearly.
How long do eyebrow tattoos last?
The pigment we use for microblading is semi-permanent and formulated for cosmetic tattoos.
This makes them different than traditional, permanent tattoos in that they gradually fade. This is an important element because you'll want to make sure your brows can change shape and shade as you change over time.
Between four and eight weeks after your initial application, you'll need to come back to Ayna Beauty Studio for a touch-up.
And, depending on your lifestyle and level of sun exposure, you'll come back for periodic visits to ensure your brows continue to look perfect year after year.
To ensure your brows look their best, we offer a thorough consultation before starting the process. We also provide detailed aftercare instructions so you know what to do, and what not to do, while your brows heal.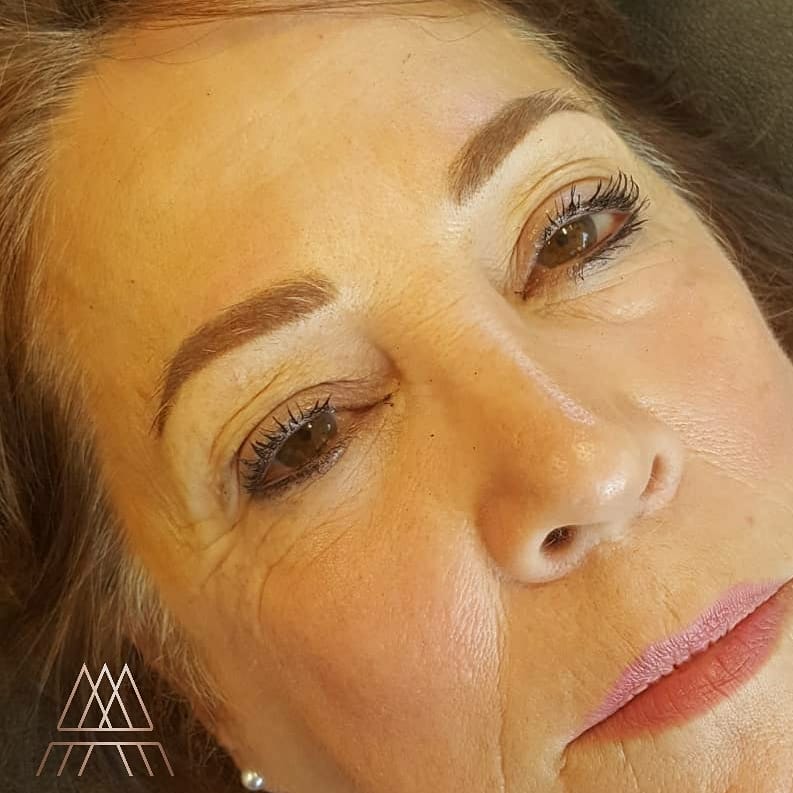 What should I expect from my first visit?
Your brow tattoo will be customized to your unique facial structure. Your artist will consider your skin tone, hair color, brow bone structure, and current brow shape and fullness. Following your one-on-one meeting, you and your microblading artist will:
Find the right shape and color for your eyebrows
Measure and outline the area where the pigment will be applied
Sanitize the area and use a strong topical anesthetic to reduce any discomfort
Use a manual micro blade hand-tool to draw fine hair strokes along your brow
Permanent Makeup for All Lifestyles
Eyebrow tattoos aren't just for beauty fanatics. This process offers a solution for all types – from athletes and busy professionals to those dealing with thinning eyebrows from a health condition.
If you're thinking about eyebrow tattoos or scalp micropigmentation and want more information, give us a call. We love to chat about our craft!